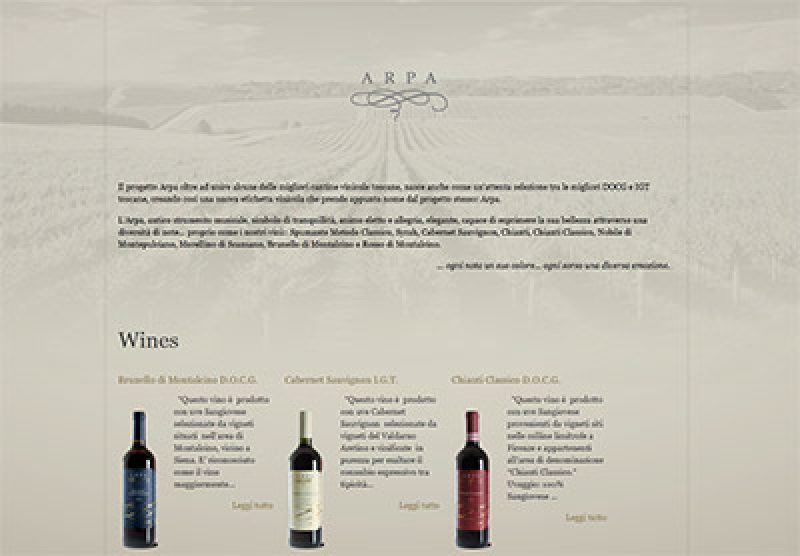 Winetrade è lieta di annunciare l'apertura del sito web arpavini.it. Di seguito una breve presentazione del progetto:
" Il progetto Arpa oltre ad unire alcune delle migliori cantine vinicole toscane, nasce anche come un'attenta selezione tra le migliori DOCG e IGT toscane, creando così una nuova etichetta vinicola che prende appunto nome dal progetto stesso: Arpa.
L'Arpa, antico strumento musicale, simbolo di tranquillità, animo eletto e allegria, elegante, capace di esprimere la sua bellezza attraverso una diversità di note… proprio come i nostri vini:: Spumante Metodo Classico, Syrah, Cabernet Sauvignon, Chianti, Chianti Classico, Nobile di Montepulciano, Morellino di Scansano, Brunello di Montalcino e Rosso di Montalcino."
"The Arpa project, blending some of the best wineries in Tuscany, was born as a careful selection of the best Tuscan DOCG and IGT, thus creating a new wine label – Arpa – that just takes its name from the project.?
The Harp, ancient musical instrument, symbol of peace, joy and soul-election, elegant, expressing beauty through a diversity of notes… just like our wines: careful selection of the best DOCG and IGT produced in Tuscany: Spumante Methode Champenoise, Syrah, Cabernet Sauvignon, Chianti, Chianti Classico, Nobile di Montepulciano, Morellino di Scansano, Brunello and Rosso di Montalcino"